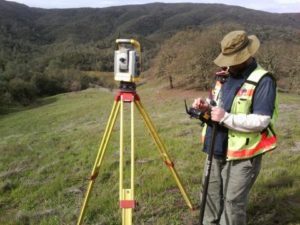 How do you find a land surveyor? More importantly, how do you find the RIGHT land surveyor for the job? There are a lot of factors to consider when you're trying to choose the land surveying company to assess your property, or boundary lines, or potential construction sites, or anything else. Every job requires a unique set of skills, and you want to make sure you're going with the right person.
First things first: certification.
The land surveyor you choose to work with should be fully licensed by the State Board for Professional Engineers and Land Surveyors. This is truly a must, because a less qualified individual won't be legally authorized to either practice surveying or determine property lines. Do your due diligence and make sure your surveyor has their license. It can halt your entire project and cost an arm and a leg to have improper surveying done.
Next, you need to consider the scope of the project. What needs to be done? How large is the job? Make sure you're working with a surveyor who has experience in the type of work you need done, and ask for all the services that will be provided, including if and how they mark the property lines, as well as how detailed they get and if they offer mapping services. Also, pay attention to your timeline. You want someone who can meet deadlines, but not someone who cuts corners to get things done on schedule. A tighter timeline may require higher pay, so bear that in mind.
That brings us to cost.
Of course it's important to manage your budget and ensure you're getting the service you need for a cost you can afford. However, it's important to make sure you're not focusing solely on the price tag. Different services have different price points, as well as the complexity of the job and the type of property. It's more important to have a job done well than done cheaply.
Lastly, you need to make sure you can work with your surveyor professionally. They should be good with communication, offering regular updates and making themselves easy to contact. You want to work with someone who is responsive and willing to answer your questions without too much hassle. At the end of the job, make sure you're aware of what your owed as far as deliverables. You should get some sort of drawing, plan, or map of the surveyed area showing the fieldwork completed. You'll want to ask about any other paperwork included in the job and make sure you receive it. Furthermore, it's always a good idea to ask around or read reviews to make sure you'll be working with someone who shows a proper level of professionalism.
If you have your list of potential surveyors prepared, give them a call and set up an in-person meeting so you can better get a sense of who they are. Come prepared with all your questions and ask about their previous job. Follow this advice and you're sure to find a great match!